Top Trends in Hotel Tableware
The hotel and hospitality industries are constantly evolving, and the tableware used in hotels and restaurants is no exception. These trends can vary depending on factors such as location, target audience, current design trends, changing consumer preferences, advances in technology, and shifts in hospitality industry norms. The way that hotels capitalize on new trends is vital to how successful their business remains. Your hotel must have a personality that connects to both existing and prospective guests who are looking for a unique travel experience. Having an experience in the manufacturing industry of hospitality for past 85 years, we have seen various trends come and go and with the knowledge of the same, here are some of the top trends in hotel tableware in 2023 that are going to stay: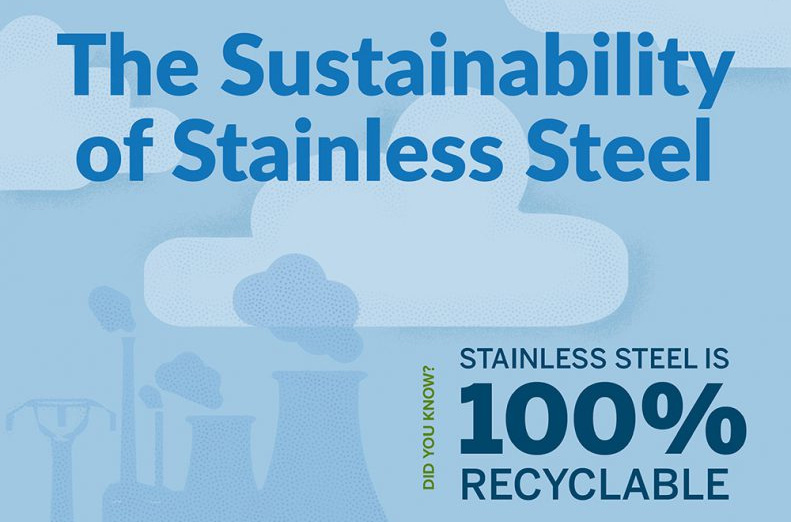 One of the most significant trends in hospitality, in general, is sustainability, and this trend is reflected in the use of tableware. Many hotels are looking for ways to reduce waste and minimize their environmental impact. This means that tableware made from recycled materials or those that can be easily recycled are becoming more popular. In addition, reusable tableware, such as glassware and ceramic dishes, are preferred over single-use plastic or paper products. Some hotels even go so far as to use compostable tableware made from natural materials such as bamboo or sugarcane. It is a common saying that steel lasts forever. The grade 304 of steel is rust proof and if properly taken care of can be used for a very long time. Once the need is finished, it can also be recycled.
Live cooking has become increasingly popular in the hospitality industry. This trend involves having chefs prepare food in front of the guests, providing interactive and engaging dining experience. Guests enjoy watching chefs cook food in front of them. It is like a performance and almost like a dream of a chef who puts his creativity into making the most delicious food. While guests can see the quality of the ingredients used, this also enhances the perception of freshness, making the overall experience more satisfying. Live cooking provides transparency and accountability for the food being served. Guests can see exactly how they are being prepared which in turn helps in building the trust and confidence in the hotel's culinary offerings. Skyra has launched a whole new collection of Live Cooking Stations ranging from Carving Station, Sushi Station, Soup Station, etc.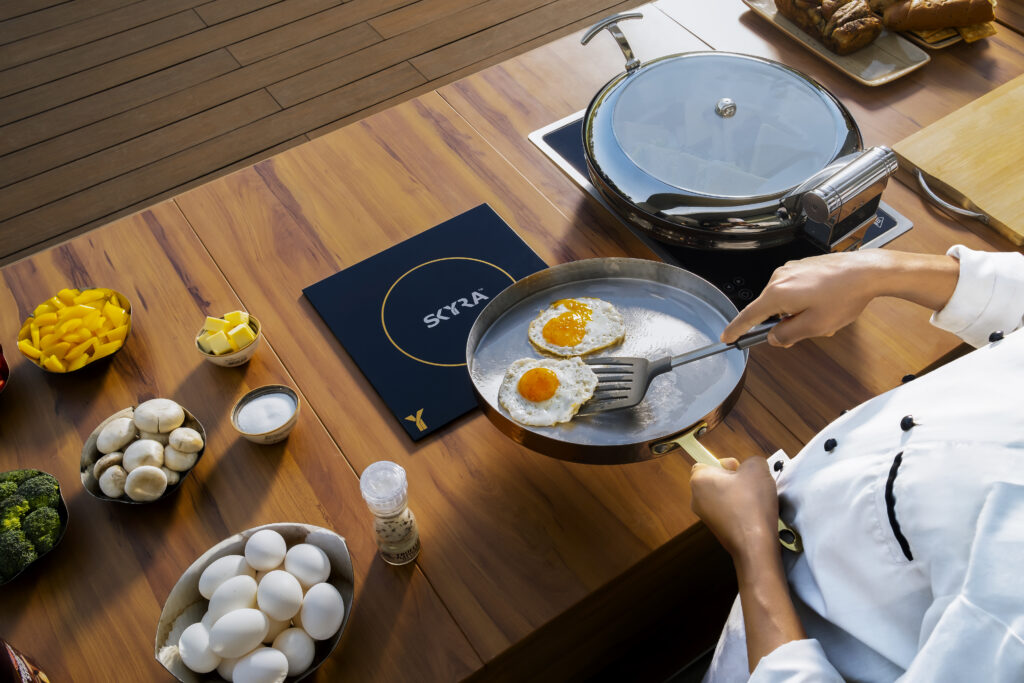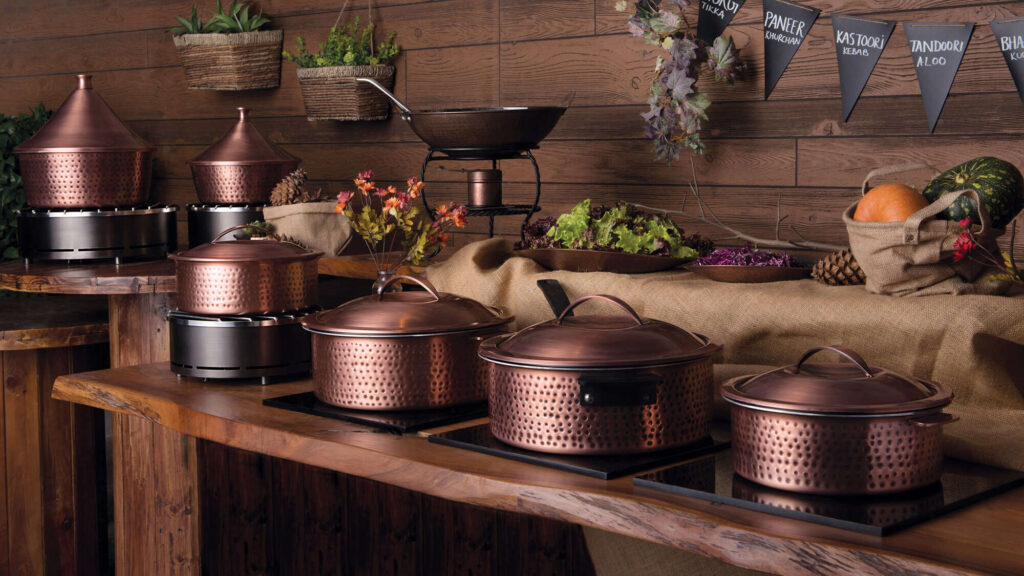 The concept of theme based dining is pushing the boundaries of conventional hotels wherein everything is being experimented. With lots of newness and innovation, this concept gives space to explore new cuisines as well as the culture of various nationalities and countries. Hotels have made this concept their Unique Selling Proposition and the concept is incorporated by many new hotel chains all round the world. Skyra has taken upon itself to help the hotels achieve such a setting in their hotels in an easy and aesthetic manner. We have bifurcated these themes into Indian, Pan Asian and Continental. These categories cover your requirement of all the dishes that are there in your menu. 
A minimalist and understated design is becoming increasingly popular in hotel tableware. Simple, elegant lines and neutral colors are favored over elaborate patterns and bright colors. This style is easy to match with any table setting and creates a sophisticated look. Modern aesthetics calls for such designs which are soothing to eyes and create a sense of elegance. This style is both timeless and versatile. Checkout our Wynwood collection which is the best fit for such minimalistic themes. It goes with a variety of themes as well as cuisine-based themes. The speciality of this collection is that its special wood finish is waterproof, termite and bacteria proof. This innovative psoriasis built using food safe grade steel, new age composite materials and proprietary wood coatings that work seamlessly together.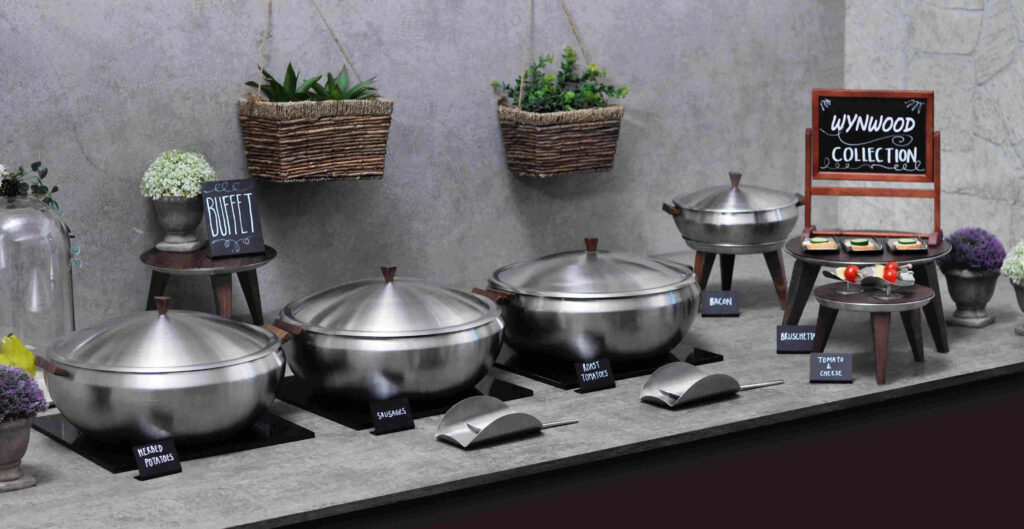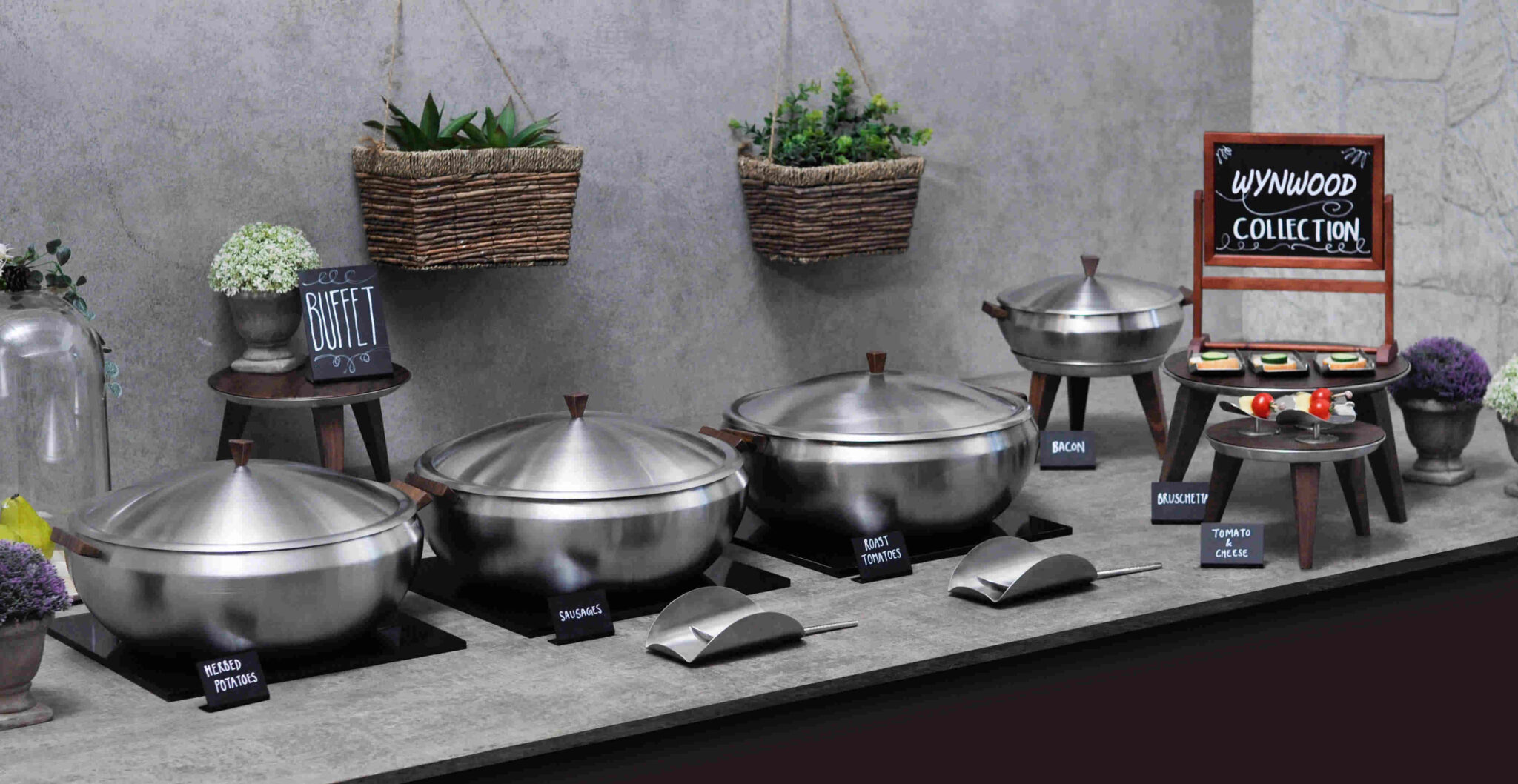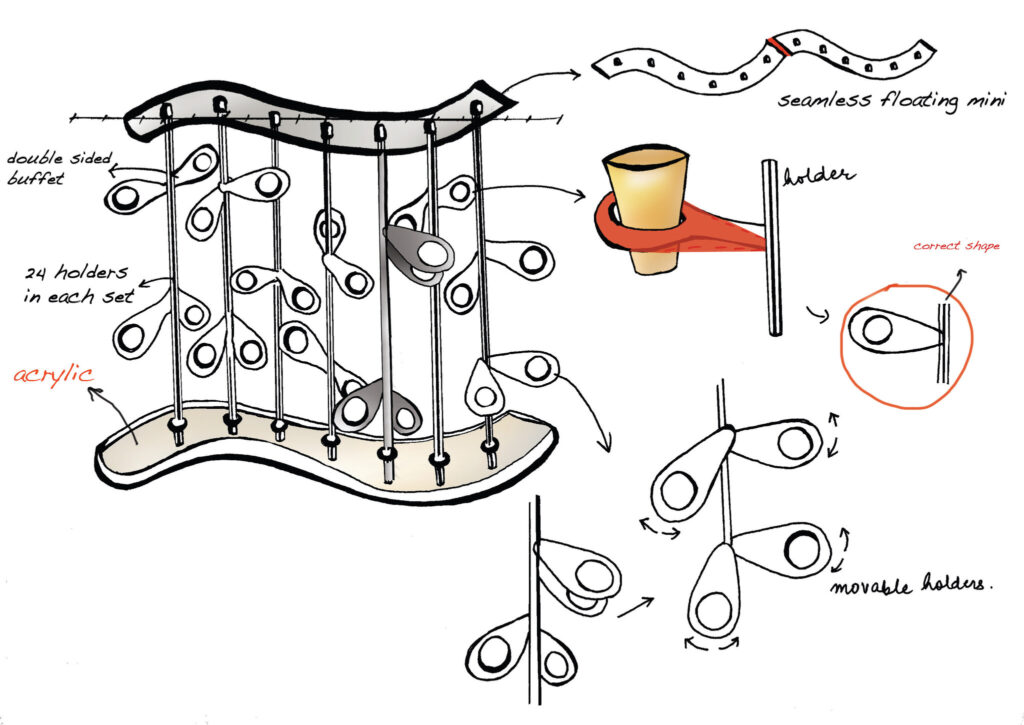 Many hotels are looking to create a unique and personalized experience for their guests, and custom branding of tableware is a popular way to achieve this. This can be in the form of custom logos, patterns, or even special packaging to make a more bespoke experience for guests. Other than this, hotels are also providing the option to add guests' names or special messages, adding a personal touch and enhancing the overall experience. Skyra's Design & Customization option provides its customers with such options of branding and adding that personal touch which is exclusive and unique to you. Skyra is known for providing its customers with the options of menu designing, spatial planning as well as product designing.
With the trend towards more compact and functional living spaces and having space is at a premium in hotels, multi-functional tableware that can serve multiple purposes is becoming increasingly popular. For example, a tray that can double as a serving platter or a table mat that can be used as a placemat. Pieces that can be used for both casual and formal dining are also in high demand. 
Since hotels are looking for tableware that can be used for breakfast, lunch, and dinner, without the need for separate sets for each meal, we highly suggest using hydraulic chafing dishes for such needs. Hydraulic chafing dishes are induction based and can be used for various menus at once. 
Our Warming Induction Station has 4 induction tiles on a table which means it can accommodate 4 induction based chafing dishes at once.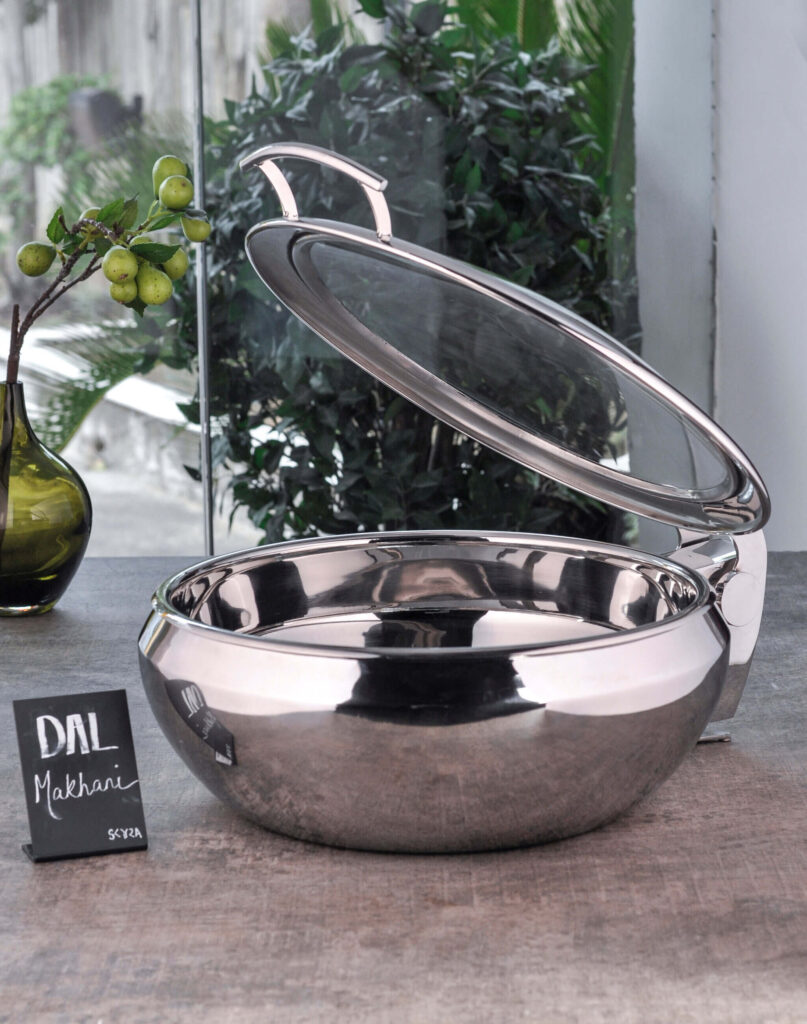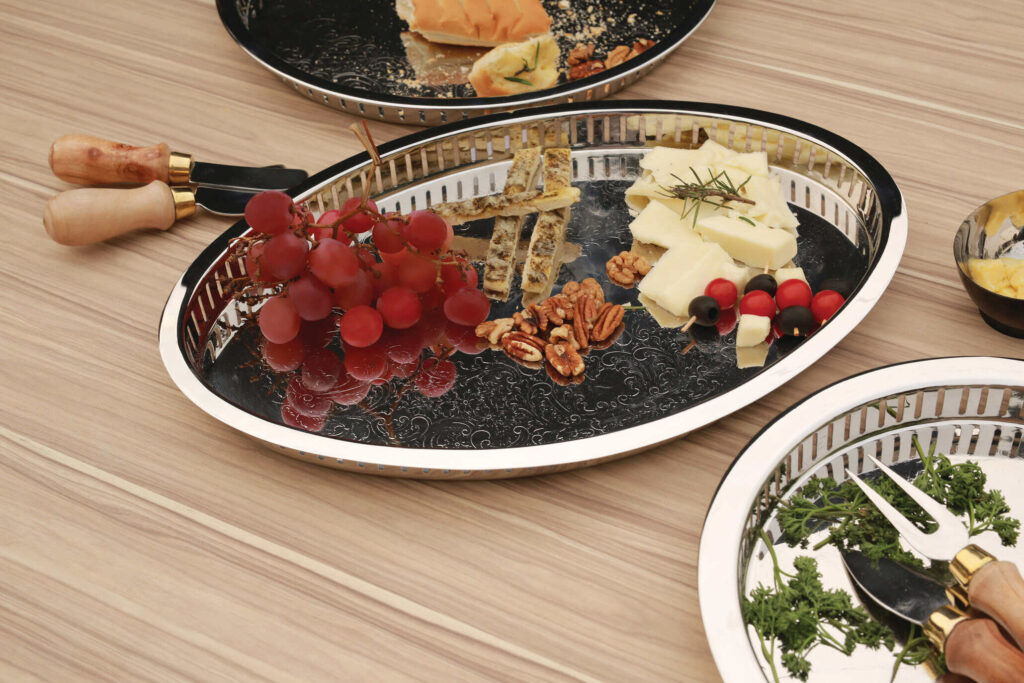 One thing that has always been prevalent in this industry is texture. Textured surfaces add interest to tableware and can help to create a more dynamic look. Texture adds to your sense of touch and though playing a secondary role in the product's functionality, it adds to the overall touch and feel of the thing you are holding. This can be achieved through materials such as stoneware, glass, or even wood, embossed or carved designs, to add visual interest to the dining experience. Explore our collection of gallery etched trays which are made with intricate etching on the surface to add quality and differ it from normal trays. 
Mix of Traditional and Modern Tableware
Some hotels are using a combination of traditional and modern tableware to create a unique dining experience. This helps to make the setting more real and unique. All you have to keep in mind is the balance of both the mixture. There should be a balance in these equipment so that one doesn't overpower the other. For example, in a breakfast buffet menu, there are various cuisines like Indian, Italian or Chinese. A hotel might use Indian chafing dishes for serving Indian cuisine like chole in traditional wok or handi and serve Thai food like vermicelli in continental themed chafing dishes which is more modern looking in its appearance. This mix of styles can create a sense of history and tradition while also feeling contemporary and up-to-date. Mixing these textures can add depth and interest to your table setting.
These are some of the top trends in hotel tableware that are shaping the industry. By incorporating these trends, hotels can create a unique and memorable dining experience for their guests while also reducing their environmental impact. These trends compliment every personality and are favored by all. As globalization brings income to the people, this industry is sure to explode and it is our responsibility to provide the best hospitality to these customers. It's also important to keep in mind that trends can change quickly and it's always a good idea to stay current with what is popular in the industry. As the industry continues to evolve, it will be interesting to see what new trends emerge in the future.