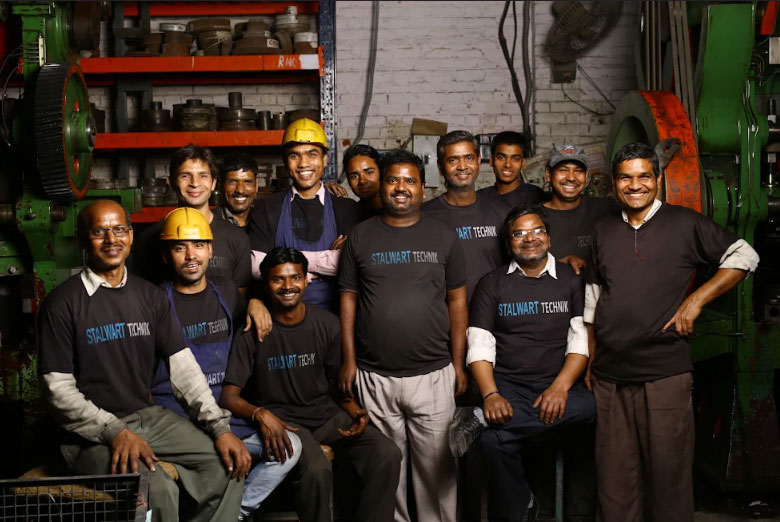 From a little cottage industry in the 50's, the Stalwart Group has evolved into the top contract manufacturer for global luxury consumer brands. Finally we have channeled all our experience and knowledge into the brand Skyra.
With the support of our international joint ventures and business partners, Skyra products are served in over 30 countries
47 Years of Original Equipment Manufacturing for the finest tableware brands across the world. This decades-old heritage has given us the necessary understanding and capabilities of making the highest quality products.
CNC TOOLING PLANT FAST DEVELOPMENTS AND COMPLEX PROFILES 
The CNC Tooling plant allows development of dies, tools and fixtures in record times.
It also enables tooling for complex profiles and gradients.
PROFESSIONAL FINISHING PLANT
Enamel Coating: In a high gloss lacquer finish in any pantone shade
Ceramic Coating: Strong and Durable in any pantone shade
Silicone & Mom-stick Coating: Dual Finish, Soft Touch, and multiple other Silicone coating options
Electroplating: An electrochemical dipping and baking process for Silver Coatings
Powder Coating: A spray and bake cost-efficient process
PVD Coating: Copper, Gold, Titanium and other metallic high quality finishes
Shot Blasting: A spray process in a special protective chamber
LASER FABRICATION SET UP
This means low development costs, almost negligible development lead time and ability to make small productions run. It also enables creating highly complex shapes.
LARGEST DEEP DRAWER PRESSES IN THE INDUSTRY
Our pressing unit has some of the largest machines in the tableware industry. Skyra can  manufacture large trays, pans, and tubs upto 36" wide and 16" deep.