Serving up Snacks
Before one of the most important events recently, I seemed particularly distraught with my buffet equipment. My staff thought that I was over analyzing each and every item vet again. I could be compared to those helpless girls that always think they have nothing to wear in their huge walk-in closet. It just seemed odd that our gigantic oversized inventory could not offer even a single strong collection, which could meet the presentation standards of high-profile events. I decided to start from the top and carefully went over the various stages of food service our guests will experience that evening.
First will probably be the bar where the guest will immediately seek a drink. Given that we have one of the finest bars at our hotel, it was not my concern at that moment. Next, a waiter will walk up to the guest and offer them an appetizer. I carefully studied our Snack Warmer and its pure commercial characteristics. It is a rectangular steel tray that holds close to seven or eight different items. The most prominent of these pieces is a highly unattractive and box-like stainless steel burner with round breathing holes. A standard steel food platter sits on the burner. Two stainless steel chutney bowls are planted next to it. A name tag holder and a stainless steel bud vase are placed at the far end of the tray. And finally, the toothpick holder and a stainless steel napkin holder with matching round holes covers the area in – between the rest of the components. The entire set was hideous. I could think of the multitude of problems that this platter had with it already.
It seems that we may have been using the same style of snack service for the last two decades. I am aware that stainless steel materials have their perks. However, the same monotonous dull polish across the items makes the entire set look so industrial. In fact, it doesn't feel like a solution at all. It looks like a bunch of loose items, such as a napkin holder and bud vase that we when the waiters are bumped around and have spilled the
contents of the platter. In the past, we have taken strict action against our staff, but it is really not their fault. This slick steel platter with its slippery small wares is simply not suitable for a crowded event.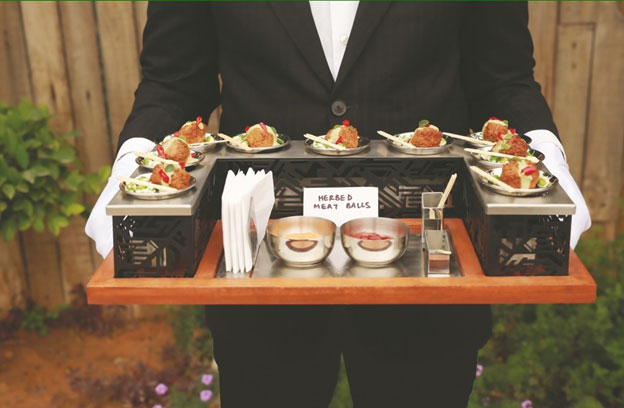 I promptly rushed into my office and attacked the stack of tableware catalogs on my
bookshelf. Most of our equipment is imported. Our drinkware is always tempered glass, the dishware is chip-resistant porcelain and the cutlery is 18/10 grade stainless steel with the finest standing knife in the industry. I could not understand at that moment why we had been using local snack service products that were clearly not as purposeful or engineered as our other imported items. After an hour of scrutinizing books of almost 20 tableware brands, I could not find a single suitable product. It appeared that none of the major European brands are selling snack warmers. And then it suddenly occurred to me, the snack service concept is not popular in the western world at all. It is unique to Indian buffet and local eating styles.
Europeans prefer to have their appetizers cold. Their popular finger foods are cheese platters, bread topped with assortments, salads, chips and dip or sometimes buffet samples and other hors d'oeuvres. Unlike Indian foods, none of these dishes are prepared and served warm. In addition to this, all of these nibbles and cocktails are usually laid out on the table as opposed to being served by a waiter.
It is a well known fact that barring an exceptionally innovative Indian tableware design company, most Indian manufacturers either copy European and American products or import them from China. Either way, generally all of the items available with them are cheap imitations of the same products available in high-standard imported product catalogs. There is a need for foodservice products that are designed and created according to Indian behavior and cuisine. Our local cuisine is very different from Western cuisine and our eating styles are even more apart. So we cannot expect to always use the same equipment as the Europeans.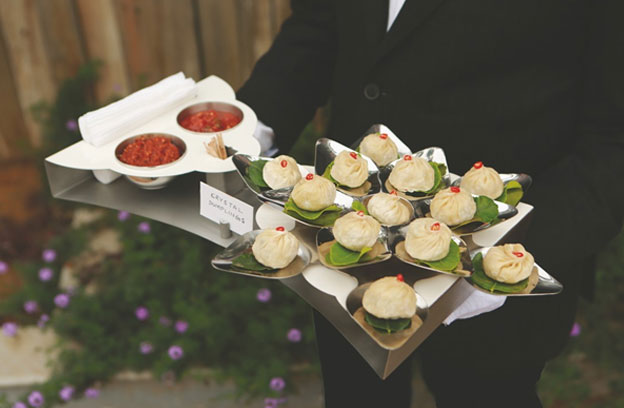 The well known saying 'First impressions are last impressions' is so true in a buffet setting. For a guest, the initial connection with food is the experience of a waiter offering them the appetizers. It establishes the standard of F&B that evening and hence must be presented beautifully. The snack warmer has to be a solution rather than a collection of tabletop items thrown on a tray. Components such as the toothpick holder, napkin holder and tag holder should be built into the platter. The entire solution must be stackable for easy storage and logistics, it can consist of innovative metal finishes, and not monotonous dull polished steel. The utility parts such as the ugly boxy warmers are better hidden and all the components including the bowls and platters have to be secured onto the tray. The item will enhance the appearance of the food, rather than take away from it. The snack service is the first and most close-up interaction of the guest with the food. It is an opportunity to amplify the chef's talents and their delicious creations. It has to be developed accordingly.