Presenting in Style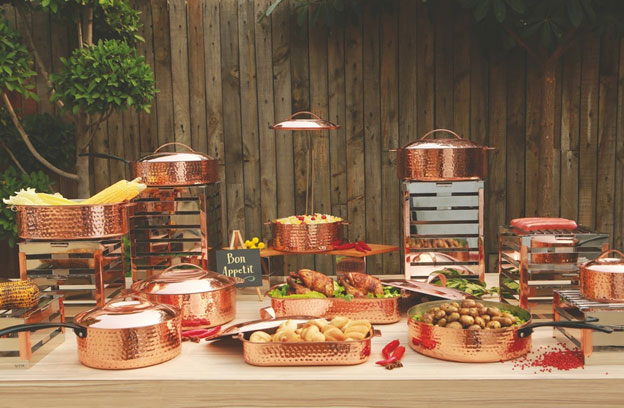 The last two decades have been a crucial period of change. The digital trend is a prime example of a phenomenon that has swept almost every industry off its feet and completely redefined it. The result of such a revolution is generally a shake-down of the entire trade. Traditional corporate majors are caught on the back foot and the disruptors become the new leaders. While less prominent, there has been a paradigm shift in the food and beverage and banquet business during this time line as well. The importance of food presentation in buffet has taken priority to all other factors and those players that have identified and focused on this trend have spiraled to the top. The industry has had a similar shuffle. Only the giants of banquets and catering that have realized within time have managed to stay in the game. The players who have not redefined their buffet to focus on presentation have either crashed or are definitely on their way out.
Redefining Buffet
I can give you an example of the New Delhi market itself. The leaders in the outdoor catering industry are all relatively new (by new, I mean the organizations are less than 20 years old) and all have one thing in common: their food presentation is innovative. Their buffet is a feast for the eyes. Not a mundane row of steel chafing dishes, but mesmerizing tiers of free form display, live cooking stations, back-lit platforms and heaps of mini bite sized dishes. These outlets that caught on to the importance of this trend have zipped their way to the number one and number two positions. They have been the choice of the host for almost all their events, having multiple jobs each evening, while the bewildered traditional banquets and caterers are still waiting for a call back.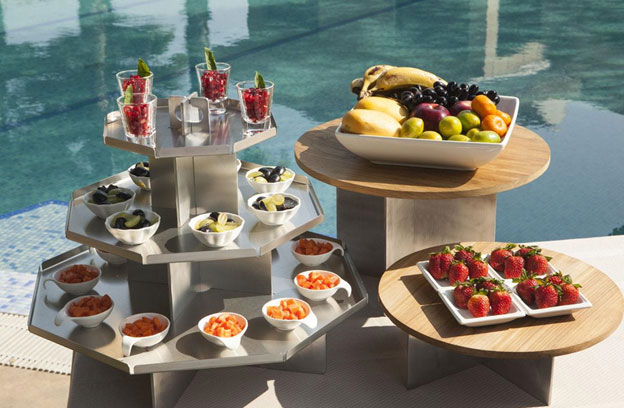 Such has been the power of food presentation in recent years and for a good reason too. The hosts spend close to 50 per cent of their budget on the décor of an event. Their aim is to have a fairytale-like ambience when their guests walk into the party. It is about flawless arrangement of beautiful lighting, props, flowers, furniture, linen and music that have to be in sync. So then why should a tacky bar and buffet display ruin the setup? Given that the invitation is almost always for 'cocktails and dinner', the buffet should
actually take center stage in the fabled setting. The traditional clumps of food in a chunky  gastronomic food warmer lit by two foil covered fuel burners just don't cut it anymore. The buffet has to be romantic and enticing. The food needs to be high-lighted and presented in tiers. The display should be open and fresh with the aromas flowing into the guest's appetites. The preparation needs to be exciting, laid out individually, clearly and garnished to perfection.
The Roadblocks
In recent times, I have noticed an influx of imported buffet designs and equipment making a bee-line for Indian hospitality outlets. Large five – star hotel banquets with strong foreign exchange earnings and a sizable quota of EPCG duty exempt licenses are purchasing directly from western Europe and USA. Smaller hotels, restaurants and out- door caterers are able to source cheaper Chinese versions or local Indian rip-offs of the same European designs. Either way, it has worked and managed to spruce up their buffet line significantly. At least it has worked till now. I see a road block ahead that I believe was not anticipated previously. It has to do with Indian cuisine and behavior versus foreign equipment and designs. I shall explain in detail.
The latest trends in food display has actually only been extended to the salad and dessert counters. It is in this space that our meal overlaps with the western cuisines. When it comes to the starters and main course, there is a roadblock. Indians do not have the appetite for cured meats, cheese, bruschetta and other room temperature or cold foods in the same volume as the Westerners. Instead, we prefer our samosas, kebabs, cutlets and other warm foods. And for this, the display equipment is restricted to chafing dishes or live cooking stations. There has not been any serious presentation tool for such cases till date. Agreed, the chafing dish is a necessary evil. It is a container with a lid and warming stand or induction base, and that is the only way to serve semi- solids such as gravy based foods, dals, etc. But what about solid warm foods and
dry bite size dishes? We should not be restricted in displaying such fares just because the equipment is not available in the western world.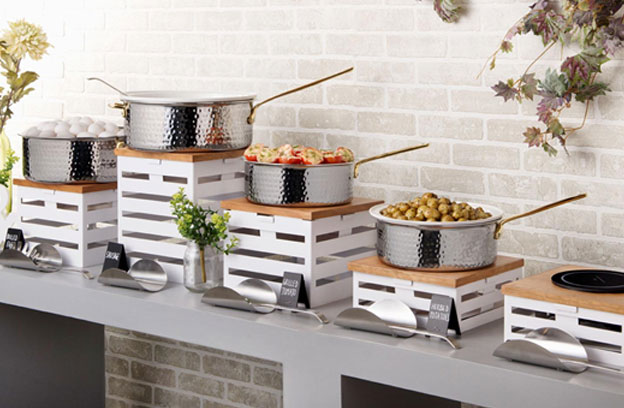 Fortunately, a new Indian design company has taken the trouble to avoid mocking western designs and is innovating with original designs. They have partnered with a panel of revered Indian chefs to identify such issues in food and beverage service. A team of industrial designers sit down with the chefs and work with the industry to design and develop solutions for problems that are specific to Indian cuisines, events and behaviors. They meet several times each year to develop, fine-tune and tweak the products to perfection. Each item in their collection is a solution to major industry problems. Buffet props that can actually keep the food warm and also be the tool for a creative presentation has been absent in this industry. These items are risers, levels, dishes and stands that not only delight the eyes but also maintain the temperature to satisfy the taste. They fully justify the mouth-watering creations of chefs who are endearing their guests well into the night. Such items need to be innovated. These are the disruptors of the Indian food and beverage world and will continue to shake-down this industry.